First Edition Books
Bob Hawke biography books
Robert James Lee "Bob" Hawke try an Australian politician who was the 23rd Prime Minister of Australian Continent in addition to chief for the work celebration from 1983 to 1991. The ACTU is created in 1927 due to the fact

Tags: Bob



The Hawke Memoirs - Bob Hawke - USED used hardback: .1994 edition - average condition wear to dust jacket - good dust jacket Get Other Books on Bob Hawke Prime Minister at the time click here Get Other Books on Australian Politics in the 1980s click here Leadership largely is the essence of political life. Bob Hawke has been a leader in every arena he entered — academia student affairs the trade union movement and federal politics. He won four Federal Elections in a row a feat achieved by no other Labor Prime Minister. This is his own account of his remarkable life. A man of destiny pragmatist and visionary with plans for national reconciliation and for creating a new role for Australia in world affairs Hawke challenged much of the conventional wisdom of public life and brought an extraordinary sense of purpose to his government. His leadership coincided with the eighties; he and his Treasurer and later arch rival Paul Keating embraced the expansive mood of the time and set out to make Australia internationally competitive an ambition which has been largely achieved. As Australia's Prime Minister Hawke established himself as among click to go
Tags: Dean Keating Hawke




The Hawke-Keating Hijack - Dean Jaensch - Bob Hawke Prime Minister - USED used paperback: .1989 edition - good condition Get Other Books on Bob Hawke Prime Minister at the time click here Get Other Books on Australian Politics in the 1980s click here Six years after Bob Hawke's victory what is the ALP ? Since 1983 almost every component of the ethos structure and practice of the Labor Party has been questioned changed ignored or abandoned. The changes include new policies new sources of support a transformation of doctrine and significant alterations to the way the party decides on policy. Journalists the Opposition and rank-and-file party members have had much to say about the fate of Australia's oldest party but few can give the voter a full picture of what has happened wh more details.....
Tags: USED Mills by Paperback Hawke Stephen Years



The Hawke Years by Stephen Mills - USED used paperback: .1993 edition - in good condition Get Other Books on Bob Hawke Prime Minister at the time click here Get Other Books on Australian Politics in the 1980s click here Bob Hawke won four elections in a row; feat achieved by no other Labor Prime Minister. Pragmatist or visionary with plans for consensus and national reconciliation? Stephen Mills Hawke's speechwriter for more than four years throws new light on Hawke's character and style. He reveals that Hawke considered dumping Keating even before they were sworn into government in 1983 — and that he explored a secret bid to negotiate with Saddam Hussein before the outbreak of the Gulf War. The Hawke Years unravels the puzzle in tracing Hawke's career from the 1970s to the 1990s —from the dashed hopes of the Whitlam years to an unprecedented period of Labor government. About Bob Hawke Robert James Lee "Bob" Hawke AC (born 9 December 1929) was the 23rd Prime Minister of Australia and longest serving Australian Labor Party Prime Minister. After a decade as president of the Australian Council of Trade Unio considerably more details
Tags: Blanche HawkePrime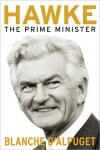 Hawke - The Prime Minister by Blanche d'Alpuget - USED Used hardback: .2010 edition in good condition Get Other Books on Bob Hawke Prime Minister at the time click here Get Other Books on Australian Politics in the 1980s click here Since its first publication in 1982 Blanche d'Alpuget's Robert J Hawke: A Biography has remained the benchmark by which other political biographies are measured. Hawke: The Prime Minister begins as Bob Hawke wrestles the Labor leadership from Bill Hayden and a few weeks later wins the 1983 federal election thus achieving his life's goal of becoming Prime Minister of Australia. With a novelist's eye a political scientist's acumen and based on exhaustive research and interviews d'Alpug link here
Tags: Hawke Ryan Government critical Susan by USED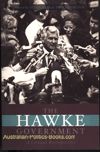 The Hawke Government: A Critical Retrospective - USED Edited by Susan Ryan and Troy Bramston used paperback: .2003 edition - in good condition Get Other Books on Bob Hawke click here Get Other Books on Australian Politics in the 1980s click here Puts on the record for the first time the candid views of cabinet ministers political insiders and commentators who provide a unique insight into the nature of leadership and the struggles of government. Contributors include: Kim Beazley Neil Blewett John Button Anne Davies David Day Pat Dodson Bob Hogg Brian Howe Barry Jones Bill Kelty Geoff Kitney Susan Ryan Phillip Toyne and Ralph Willis About Bob Hawke Robert James Lee "Bob" Hawke AC (born 9 December 1929) was the 23rd Prime Minister of Australia and longest serving Australian Labor Party Prime Minister. After a decade as president of the Australian Council of Trade Unions he entered politics at the 1980 elections and became Prime Minister within three years. He became b more info
Tags: Own My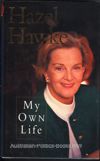 My Own Life - Hazel Hawke - USED used hardback: .1992 edition - good condition Get Other Books on Bob Hawke Prime Minister at the time click here Get Other Books on Australian Politics in the 1980s click here Hazel Hawke's story spans decades of enormous change in the way Australian families live - and live together. As the prime minister's wife she lent her support to endeavours that reflected her own concerns and experience including her great love music. She enjoyed herself enormously - and swept others along with her enthusiasm for ideas and talk. My Own Life is an absorbing autobiography and a graphic slice of the social history of sixty years of change in Australia.... About Hazel Hawke Hazel Hawke AO is the former wife of Bob Hawke Prime Minister of Australia 1983–91. They divorced after he left the prime ministership. She has worked in social policy areas was an excellent amateur pianist and a patron of the arts. More recently she has appeared in public with her family after her diagn here
Tags: Journey Hazels's Hawke Sue by Pieters USED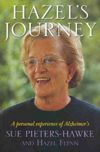 Hazel's Journey - Sue Pieters-Hawke - USED A Personal Experience of Alzheimer's co written by Hazel Flynn used paperback: .2004 edition - good condition Get Other Books on Bob Hawke Prime Minister at the time click here Get Other Books on Australian Politics in the 1980s click here In November 2003 she revealed that she was facing her greatest challenge - Alzheimer's disease. Her courage and determination in the face of this cruel turn of fate touched millions. Now comes the full inside story of Hazel's journey with Alzheimer's told by her daughter Sue. This is an interestng and personal story of an intelligent independent woman struggling with the disease that is affecting an ever increasing number of Australians. From early denial to the awful anger tha full details
Tags: life




Hawke an Emotional Life - Stan Anson- Bob Hawke Prime Minister - USED used paperback: .1992 edition - good condition Get Other Books on Bob Hawke Prime Minister at the time click here Get Other Books on Australian Politics in the 1980s click here `As a child Hawke was neither profusely indulged nor cruelly neglected. Consequently his narcissism is less assertive and impregnable than say Gough Whitlam's less depressive and defensive than say Winston Churchill's. The future Prime Minister was certainly a spoiled child in the everyday sense yet it appears that some critical intangible things were unconsciously withheld from him ...' Bob the Silver Bodgie the Right Honourable the Prime Minister R. J. Hawke. A man for all seasons or a hero without a face of his own? Throughout his thirty years on the public stage Bob Hawke has inhabited many public an full details
Tags: Bob




The Hawke Ascendancy - Paul Kelly - Bob Hawke Prime Minister - USED used paperback: .1984 edition - good condition Get Other Books on Bob Hawke Prime Minister at the time click here Get Other Books on Australian Politics in the 1980s click here "The Hawke Ascendancy is the story of how the Labor Party returned to power in 1983 after its crushing defeat in 1975. It is the inside story of three men - Bob Hawke Malcolm Fraser and Bill Hayden - and their unique power struggle. The account covers the full eight years which began with Fraser's 1975 supremacy and closed with Hawke's 1983 triumph and first year of office. "This definitive work deals with the personality clashes policy achievements and power struggles in both the Labor and Liberal parties. Hawke alienated from his own party in 1975 finally broke down the doors of its opposition to him and became Labor's saviour. Fraser invulner considerably more details
Tags: A Robert d'Alpuget Hawke USED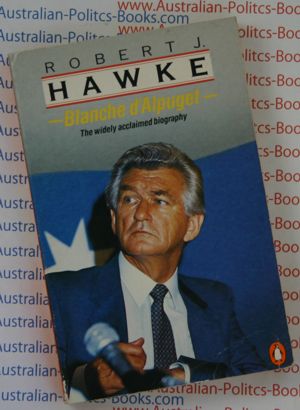 Robert J Hawke - A Biography by Blanche d'Alpuget - USED used paperback: .1984 edition - in good condition Get the new Bob Hawke Prime Minister Book by Blanche d'Alpuget click here Get Other Books on Bob Hawke Prime Minister click here Get Other Books on Australian Politics in the 1980s click here Leadership largely is the essence of political life. Bob Hawke has been a leader in every arena he entered — academia student affairs the trade union movement and federal politics. He won four Federal Elections in a row a feat achieved by no other Labor Prime Minister. This is his own account of his remarkable life. A man of destiny pragmatist and visionary with plans for national reconciliation and for creating a new role for Australia in world affairs Hawke challenged much of the conventional wisdom of public life and brought an extraordinary sense of pur details
Tags: Paperback A Biography J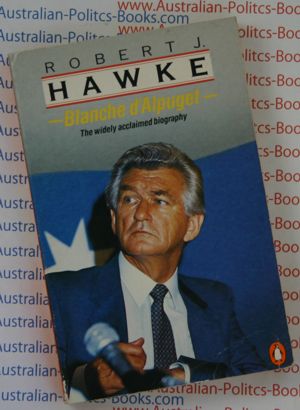 Robert J Hawke - A Biography by Blanche d'Alpuget - USED used paperback: .1984 edition - in good condition Get Other Books on Bob Hawke Prime Minister at the time click here Get Other Books on Australian Politics in the 1980s click here Leadership largely is the essence of political life. Bob Hawke has been a leader in every arena he entered — academia student affairs the trade union movement and federal politics. He won four Federal Elections in a row a feat achieved by no other Labor Prime Minister. This is his own account of his remarkable life. A man of destiny pragmatist and visionary with plans for national reconciliation and for creating a new role for Australia in world affairs Hawke challenged much of the conventional wisdom of public life and brought an extraordinary sense of purpose to his government. His leadership coincided with the eighties; he and his Treasurer and later arch rival Paul Keating embraced the expansive mood of the time and set out to make Austra click here.....
Robert James Lee "Bob" Hawke try an Australian politician who was the 23rd Prime Minister of Australian Continent in addition to chief for the work celebration from 1983 to 1991. After ten years as President of the Australian Council of Trade Unions, he was elected into the residence of associates while the Labor MP for Wills in 1980. 36 months later on, he led Labor to a landslide election success and is sworn in as Prime Minister. He led Labor to victory at three additional elections in 1984, 1987 and 1990, thus creating him the essential effective work frontrunner of all time. Hawke is sooner or later changed by Paul Keating after 1991. He remains up to now Labor's longest-serving Prime Minister, and it is Australia's third-longest-serving Prime Minister.

The ACTU is created in 1927 due to the fact "Australian Council of Trade Unions". It absolutely was one of many first attempts by trade unions to utilize the maxims of 1 Big Union earlier on investigated by even more radical syndicalist unions like the CNT or revolutionary commercial unions like the IWW.

Inside Australian circumstances, agitation for One gigantic Union happened from 1911 from two different sectors: through the revolutionary Australian element of the IWW and from pro-arbitration Australian Workers Union. At that time the AWU ended up being the biggest solitary Australian union. In 1918 following the collapse associated with Australian IWW, a small grouping of militant trade unions experimented with form One Big Union underneath the name Workers Industrial Union of Australian Continent. The hostility between your WIUA in addition to AWU stopped the synthesis of One Big Union in Australian Continent. It had been the efforts of Stanley Bruce's authorities in 1927 to dismantle the Australian Industrial interaction Commission which impelled the Australian trade unions to create a national council.
Melbourne Trades Hall in Victoria could be the "birthplace" of ACTU

The ACTU's Australian trade union "peak human anatomy" precursors feature state labour councils like Victorian positions Hall Council, the work Council of brand new Southern Wales therefore the Inter-Colonial Trade Union Congress.

The ACTU hasn't obtained the beliefs indicated for just one gigantic Union: they stays a council organisation, but it do however express nearly all Australian trade unions. At their development in 1927 the ACTU was just regarded as representing blue-collar trades unions, and just were able to attain the help of investments unions. From 1948 top body of white-collar organizations existed, and from 1969 maximum systems of government employees. The white-collar bodies are: the Council of pro and Commercial workers organization, which became the Council of White Collar organizations, which amalgamated using the Salaried Employees Consultative Council of the latest Southern Wales to be the Australian Council of Salaried and Professional Associations in 1956. The us government employee bodies had been: the Council of Commonwealth public-service enterprises which became the Council of Australian national worker Organisations in 1975. The ACTU effectively integrated these systems in 1981. After 1981 the ACTU is typically viewed by the Australian news and community whilst the organization representing all people' organisations.
Greg Combet, past Secretary regarding the ACTU, talking on 2 November 2005 right after the Government introduced their WorkChoices legislation to the Australian Parliament.

The ACTU and Labour Councils posses frequently united Australian working-class thoughts behind specific initiatives like eight-hour time or compulsory arbitration. During the early 1980s this unifying impulse created an accord between federal government, capital and labour on wages and prices. The ACTU retains a detailed relationship utilizing the Australian work celebration: former ACTU President Bob Hawke continued to be the leader of this ALP and then Prime Minister of Australian Continent. Various other previous ACTU Presidents who proceeded in order to become members of Federal Parliament is: Simon Crean, Martin Ferguson, and Jennie George. The November 2007 election win by the work Party, saw the election of some union officials towards the parliament including costs Shorten and Greg Combet.

Inside late 1980s and very early 1990s the ACTU was important in a move to forcibly amalgamate modest unions into so called "awesome unions". The ACTU's programs envisaged 20 extremely unions organised on a commercial foundation. While a lot of amalgamations occurred in the belated 1980s and very early 1990s, you may still find most unions, and union protection is frequently organised by historic amalgamation, not by industry.

Hawke came to be in Bordertown, South Australia to Clem, a Congregationalist minister, and his spouse Edith, a schoolteacher. His uncle, Albert, had been the Labor Premier of west Australian Continent between 1953 and 1959, and was also a detailed buddy of Prime Minister John Curtin, who had been in a variety of ways Bob Hawke's role design. Ellie Hawke have an almost messianic opinion inside her boy's destiny, which contributed to his supreme self-esteem throughout their profession. Both their parents had been of Cornish source, and then he himself have claimed that their history was Cornish. This led the Cornish journalist and historian A.L. Rowse to create, "Bob Hawke's faculties become since Cornish as Australian. I know them well; the hostile individualism, the egoism, the touchiness, the obligation to resentment, also a touch of vindictiveness." Hawke claims, while going to the 1952 World Christian Youth Conference in Asia, "there have been all those poverty stricken young ones at the gate for this palatial location in which we were feeding our face and I just had this struck by this huge feeling of irrelevance of faith toward requirements of individuals". He consequently abandoned their Christian beliefs. By the time he entered politics he was a self-described agnostic. Hawke informed Andrew Denton in 2008 that their dad's Christian trust carried on to shape their outlook nevertheless: " stated if you believe in the fatherhood of Jesus you need to fundamentally have confidence in the brotherhood of guy, it observe fundamentally, and though I kept the chapel and had not been religious, that truth remained beside me."

Hawke was educated at Perth todays college additionally the college of west Australia where he finished with a Bachelor of Arts and Bachelor of Laws. At the years 15, he precisely boasted which he would one-day become Prime Minister of Australian Continent. He joined up with the work Party in 1947 at the age of 18, and successfully sent applications for a Rhodes Scholarship at the end of 1952. In 1953, Hawke attended institution College, Oxford to start a Bachelor of Arts in viewpoint, Politics and Economics. He shortly receive he had been cover much the same ground while he performed in his studies at the college of west Australia. Hawke after that transferred to a Bachelor of Letters, with a thesis on wage-fixing in Australia that has been effectively presented in January 1956.

Their academic accomplishments are complemented by setting a new globe speed record for alcohol drinking; he downed 2 1⁄2 imperial pints - equivalent to a yard of ale - from a sconce cooking pot in 11 moments within an university punishment. In his memoirs, Hawke proposed that single task could have added to their political triumph a lot more than other, by endearing your to a voting populace with a good beer customs.

At the chronilogical age of 17, Hawke have a serious accident on their black Panther motorcycle that left your in a crucial problem for all times. Their brother Neil had died at the same years. It had been this near-death knowledge that has been their catharsis and drove your to make the the majority of his skills and not let his know-how visit waste.

In March 1956, Hawke married Hazel Masterson at Perth Trinity chapel. They might carry on to own three kiddies: Susan Pieters-Hawke, Stephen and Roslyn. Their 4th son or daughter, Robert Jr, died in the early infancy in 1963. Hawke would later on become called Victorian daddy of the season in 1971. In identical seasons, Hawke acknowledged a scholarship to carry out doctoral studies in the area of arbitration legislation in legislation department at Australian nationwide institution in Canberra. Right after arrival at ANU, Hawke became the people' representative regarding the University Council.

In 1957, Hawke had been suggested into the President of Australian Council of Trade Unions, Albert Monk, in order to become a research officer, replacing Harold Souter who'd be ACTU Secretary. The recommendation ended up being made by Hawke's mentor at ANU, H.P. Brown, just who for a number of many years had assisted the ACTU in nationwide wage situation. Hawke made a decision to abandon their doctoral studies and accept the provide, going to Melbourne.
Soon after Hawke began just work at the ACTU, he became accountable for the presentation of their annual instance for higher earnings towards nationwide wages tribunal, the Conciliation and Arbitration Commission. He had been first appointed as an ACTU recommend in 1959. The 1958 instance, under recommend R.L. Eggleston, had yielded just a five-shilling enhance. The 1959 instance discovered for a fifteen-shilling boost, and was seen as a personal victory for Hawke. He went on to attain such profits and prominence inside the role as an ACTU supporter that, in 1969, he was encouraged to operate for ACTU President, despite the fact that he previously never ever held elected workplace in a trade union.

He was chosen ACTU President in 1969 on a modernising platform, by a slim margin of 399 to 350, because of the support of remaining for the union activity, including some linked to the Communist Party. He later paid Ray Gietzelt, General assistant associated with FMWU, whilst the solitary biggest union figure in assisting him achieve this outcome.

Hawke declared publicly that "socialist is not a keyword I would use to describe myself", along with his way of national is pragmatic. He concerned himself with creating enhancements to people' everyday lives from inside the conventional institutions of national, in the place of making use of any ideological concept. He compared the Vietnam War, but had been a strong supporter of this US-Australian alliance, as well as a difficult supporter of Israel. It absolutely was their commitment to the cause of Jewish Refuseniks that generated a planned murder attempt on Hawke because of the desirable front side for Liberation of Palestine, as well as its Australian operative Munif Mohammed Abou Rish.

In 1971, Hawke as well as other people in the ACTU requested that Southern Africa deliver a non-racially biased team when it comes to Rugby Union tour, using the objective of unions agreeing never to serve the team in Australia. Ahead of arrival, the west Australian department associated with transportation Workers Union, and Barmaids' and Barmens' Union launched which they would offer the group, which permitted the Springboks to secure in Perth. The tour commenced on Summer 26 and riots taken place as anti-apartheid protesters interrupted games. Hawke and his family started to see destructive post and phone calls from those who thought that sport and politics cannot combine. The harassment proceeded from anti-Semites, for their commitment with Israel. Hawke remained focused on the ban on apartheid groups and therefore same year, the South African cricket team had been successfully denied no apartheid group would be to ever arrive at Australian Continent again. It was this ongoing dedication to racial equality in Southern Africa that generated Hawke the respect and relationship of Nelson Mandela.

In commercial matters, Hawke carried on to show an inclination for, and substantial experience at, negotiation, and is generally speaking liked and respected by companies as well as the unions he advocated for. As soon as 1972, speculation began he would look for to enter Parliament and eventually set you back become the commander of work Party. But while their expert career carried on effectively, their heavy-drinking along with his notorious womanising put considerable strains on their family members lifestyle.

In 1973, Hawke is chosen as the Labor Party's Federal President. Two years later on, as soon as the Whitlam Government had been controversially dismissed because of the Governor-General, Hawke demonstrated a short keenness to submit Parliament in the ensuing election. Harry Jenkins, the MP for Scullin, arrived under some pressure to step down to permit Hawke to face in the put, but he strongly resisted this push. Hawke ultimately didn't make an effort to enter Parliament in those days, a determination he soon regretted. After Labor is defeated during the election, Whitlam initially provided the Labor leadership to Hawke, although it was not within Whitlam's capacity to decide who would be successful him. Despite maybe not taking on the provide, Hawke stayed influential, playing a key role in averting nationwide attack activity. Any risk of strain for this duration took their toll, and in 1979 he suffered a physical collapse.

This surprise led Hawke to help make a suffered and in the end successful effort to conquer their alcoholism – John Curtin is his determination within, as in many other strategies. He had been aided through this era because of the commitment that he have established with all the copywriter Blanche d'Alpuget, which in 1982 published an admiring biography of Hawke. Their recognition using people is unaffected by this era of rehabilitation, and thoughts polling proposed that he is an even more well-known general public figure than either Labor Leader costs Hayden or Liberal Prime Minister Malcolm Fraser.
Your house of associates is amongst the two homes regarding the Parliament of Australian Continent. It really is described as the low house, utilizing the Senate becoming described as the top of home. The definition of limitation for members of the home of Representatives was no more than around 36 months, but might abridged if an early election is named.

Today's Parliament may be the 44th government Parliament of this Federation. The newest national election was held on 7 September 2013 and also the home earliest sat on 12 November. The Liberal/National Coalition obtained 90 seating out-of 150 and formed the federal government. Work hold 55 seating and develop the opposition. The Australian Greens, Palmer United Party and Katter's Australian celebration each hold just one chair, even though the continuing to be two are held by independents.
After Labor's landslide victory, Hawke is sworn in once the 23rd Prime Minister of Australian Continent because of the Governor-General on 11 March 1983. The inaugural days of the Hawke Government are distinctly different from those of Whitlam authorities. Versus immediately starting considerable reform programs as Whitlam have, Hawke revealed that Malcolm Fraser's pre-election concealment associated with the spending plan deficit suggested many of Labor's election obligations will have to become deferred. As part of their inner reforms bundle, Hawke divided the us government into two tiers, with only the important ministers attending regular group meetings associated with case. The work caucus were still because of the expert to ascertain who would compensate the Ministry, but gave Hawke unprecedented capabilities for a Labor Prime Minister to choose which people ministers would comprise the 13-strong Cabinet. Hawke said that he performed this to prevent what he regarded as the unwieldy nature associated with the Whitlam Cabinet, which have 27 customers. Caucus under Hawke additionally exhibited a more formalised program of parliamentary factions, which dramatically modified the characteristics of caucus procedures.
Hawke gift suggestions a cheque for Ash Wednesday fire relief to South Australian top-quality John Bannon in April 1983.

Unlike their forerunner as Labor Leader, Hawke's expert in the Labor celebration ended up being absolute. This allowed your to sway their MPs to aid a considerable set of policy changes. Individual records from ministers indicate that while Hawke was not usually the driving force for financial reform – that impetus alternatively coming from Treasurer Paul Keating and business Minister John key – he took on part of achieving opinion and supplying political help with that which was electorally feasible and exactly how far better offer they into people, activities where he shown very successful. Hawke took in an extremely general public part as Prime Minister, showing become extremely favored by the Australian electorate; as of today he still keeps the greatest previously AC Nielsen approval rating.

The governmental relationship between Hawke along with his Treasurer, Paul Keating, provided necessary to their particular achievements in government. The two males shown a study in contrasts: Hawke had been a Rhodes Scholar; Keating remaining twelfth grade early. Hawke's enthusiasms had been cigars, horse racing and all forms of recreation; Keating favored classical buildings, Mahler symphonies and gathering English Regency and French Empire collectibles. Hawke was consensus-driven; Keating revelled in hostile discussion. Hawke ended up being a lapsed Protestant; Keating ended up being a practising Catholic. These distinctions, but seemed simply to boost the results of these relationship, because they oversaw sweeping economic and social adjustment throughout Australia.

Relating to political commentator Paul Kelly, "probably the most influential economic choices of this 1980s were the floating regarding the Australian dollar together with deregulation associated with financial system". Although the Fraser national have played a component undergoing financial deregulation by commissioning the 1981 Campbell Report, resistance from Fraser himself had stalled the deregulation processes. Once the Hawke authorities applied a thorough system of economic deregulation and reform, they "transformed business economics and politics in Australia". The Australian economy became more integrated aided by the worldwide economy because of this, which totally transformed its relationship with Asia, European countries in addition to United States. Both Hawke and Keating would claim the credit if you are the driving force behind the prosperity of the Australian dollars float.

Among various other reforms, the Hawke Government dismantled the tariff program, privatised state industry industries, ended the subsidisation of loss-making companies, and marketed from the state-owned Commonwealth lender of Australian Continent. The income tax program had been reformed, because of the introduction of a fringe importance taxation and a capital gains income tax, reforms highly opposed because of the Liberal celebration at the time, however people that they reversed once they ultimately gone back to workplace. Partially offsetting these imposts upon business community – the "main loser" from the 1985 income tax Summit according to Paul Kelly – had been the introduction of full dividend imputation, a reform insisted upon by Keating. Financing for education was also dramatically enhanced, while financial aid ended up being provided for students in order to stay in school much longer. Significant progress has also been produced in directing support "to the many disadvantaged recipients within the entire range of benefit pros."
The Prime Minister's company at Old Parliament home, preserved because showed up during Hawke's prime-ministership

Hawke gained significantly from the disarray into that your Liberal Party fell after the resignation of Malcolm Fraser. The Liberals had been split between followers for the dour, socially conventional John Howard and also the more liberal, urbane Andrew Peacock. The arch-conservative premiere of Queensland, Joh Bjelke-Petersen, added to the Liberals' problems with their "Joh for Canberra" campaign, which shown extremely harming. Exploiting these divisions, Hawke led the Labor celebration to landslide election victories in a snap 1984 election and the 1987 election.

Hawke's time as Prime Minister spotted significant friction progress between himself and the grassroots associated with work Party, who have been unhappy at whatever they regarded as Hawke's iconoclasm and willingness to cooperate with business interests. All Labor Prime Ministers need sometimes engendered the hostility of organisational wing of the celebration, but none way more than Hawke, who on a regular basis expressed his readiness to cull work's "sacred cows". The Socialist remaining faction, also prominent Labor figure Barry Jones, offered severe criticism of many federal government decisions. He additionally got critique for his "confrontationalist style" in siding with all the air companies into the 1989 Australian pilots' attack.
Hawke and US President Ronald Reagan at White home in 1985

Regardless of the criticisms levelled against the Hawke Government, they been successful in enacting many personal reforms during its time in office. Deflecting arguments that Hawke national had failed as a reform federal government, Neville Wran, John Dawkins, Bill Hayden and Paul Keating made a number of speeches throughout the 1980s arguing that Hawke authorities was indeed a recognisably reformist government, drawing attention to Hawke's accomplishments as Prime Minister during his earliest 5 years in company. Along with the reintroduction of Medibank, under the new name Medicare, these included the doubling of child care places, the introduction of occupational superannuation, a boost in school retention prices, a focus on teenagers's job skills, a doubling of subsidised home care service, the reduction of impoverishment traps in the welfare system, a 50percent rise in public housing resources, a rise in the actual value of the old-age retirement, the introduction of a new youth assistance regimen, the re-introduction of six-monthly indexation of single mature unemployment benefits, and big improvements in personal safety provisions. As revealed by John Dawkins, the proportion of complete authorities outlays allotted to families, the unwell, single parents, widows, the handicapped, and veterans ended up being dramatically greater underneath the Hawke federal government than in Whitlam federal government.

Another notable triumph for which Hawke's reaction try provided substantial credit was Australia's general public wellness promotion with regards to HELPS. In the old age associated with Hawke authorities, Aboriginal affairs in addition saw substantial focus, with an investigation associated with concept of a treaty between Aborigines in addition to national, although this idea would be overtaken by occasions, notably the Mabo judge decision.

The Hawke authorities furthermore made some significant ecological choices. With its very first period in company it stopped the building associated with the Franklin Dam in Tasmania, responding to a groundswell of protest about the problems. In 1990, with an election looming, difficult political operator Graham Richardson was appointed Environment Minister, and was handed the task of attracting second-preference ballots from Australian Democrats also ecological events. Richardson reported this as a major element in the federal government's slim re-election at the 1990 election.

Richardson felt the significance of their share to work's success would immediately entitle him towards ministerial profile of their selection, that has been Transport and Communications. He had been surprised, however, at what he regarded as Hawke's ingratitude in allocating him Social Security alternatively. He later on vowed in a telephone discussion with Peter Barron, an old Hawke staffer, to do "whatever it takes" to "get" Hawke. He instantly transported their allegiance to Paul Keating, just who after seven many years as Treasurer ended up being openly coveting the leadership.
Bob Hawke and Labor frontrunner Mark Latham unveil a plaque in 2004 to commemorate the centenary for the Watson Labor Government in 1904.

The belated 1980s recession and associated large interest rates have seen the government in considerable electoral problem, with many doubting if Hawke could winnings in 1990. Although Keating is the main architect of the national's economic guidelines, he took advantageous asset of Hawke's decreasing appeal to plan a leadership challenge. In 1988, within the aftermath of poorer viewpoint polls, Keating put pressure on Hawke to step-down immediately. Hawke responded by agreeing a secret cope with Keating, the so-called "Kirribilli Agreement", which he would stand-down in Keating's favour shortly after the 1990 election, which he persuaded Keating he could win. Hawke duly obtained the 1990 election, albeit by a really tight margin, and afterwards appointed Keating as Deputy Prime Minister to change the retiring Lionel Bowen, also to create Keating to believe the management.

Not long after becoming Deputy Prime Minister, discouraged at the insufficient any indication from Hawke as to as he might step-down, Keating made a provocative address towards the government Parliamentary hit Gallery. Hawke considered the speech incredibly disloyal, and afterwards indicated to Keating he would renege regarding Kirribilli contract consequently. Next disagreement tensions amongst the two guys achieved an all-time large, and after a turbulent seasons, Keating eventually resigned as Deputy Prime Minister and Treasurer in June 1991, to challenge Hawke when it comes to management. Hawke comfortably beaten Keating, as well as in a press summit after the result Keating declared that with regards the management, he previously fired their "one shot". Hawke appointed John Kerin to restore Keating as Treasurer, but Kerin quickly became unequal towards tasks. Regardless of their convincing win over Keating, Hawke is observed after the result as a "wounded" chief; he'd now-lost their lasting governmental companion, their score in thoughts polls started initially to decrease, and after nearly nine years as Prime Minister, numerous were openly speculating which he was "tired", hence it had been time for someone new.

Hawke's management was finally irrevocably hurt to the end of 1991, as newer Liberal commander John Hewson released 'Fightback!', a detailed proposal for sweeping economic modification, including the introduction of a products or services tax and deep slices to authorities spending and personal tax. The bundle seemed to simply take Hawke by complete shock, along with his reaction to it was evaluated to be exceptionally ineffective. Most inside the Labor Party seemed to lose trust in your over this, and Keating duly challenged for the leadership an extra time on 19 December 1991, now narrowly defeating Hawke by 56 ballots to 51. In a speech towards the home of associates here time, Hawke declared that their nine ages as Prime Minister have remaining Australian Continent a better nation than he discover, and he was handed a standing ovation by those current. He subsequently tendered their resignation as Prime Minister towards the Governor-General. Hawke quickly returned to the backbenches before resigning from Parliament on 20 February 1992, triggering a by-election which was won by independent Phil Cleary from an archive industry of 22 applicants.

Hawke authored which he had very few regrets over his amount of time in office; although his bitterness towards Keating appeared in the previous memoirs, by 2010, Hawke stated which he and Keating had very long since buried their variations, and that they frequently dined collectively and considered one another pals.
Loot.co.za: Sitemap
9780195221602 0195221605 Student Study Guide to The Ancient Greek World, Jennifer Tolbert Roberts, Tracy Barrett 7321905837878 Top Cat: Volume 4 - Episodes 19-24 ...
Loot.co.za: Sitemap
9781606721346 1606721348 Melodies from a Broken Organ, Cori Reese 9788476585528 8476585527 Educacion y Medernidad - Entre La Utopia y La Buro, Eduardo Terren 9781435831476 1435831470 Whales of the Arctic, Sara Swan Miller