First Edition Books
Joh Bjelke-Petersen Books
Sir Johannes "Joh" Bjelke-Petersen, KCMG had been an Australian politician. Bjelke-Petersen's Country Party monitored Queensland despite regularly getting the smallest quantity of ballots out from the state's leading three events, reaching the consequences through a notorious system of electoral malapportionment that

Tags: Memoirs Petersen Don't worry about that!




Don't you worry about that! - The Joh Bjelke-Petersen Memoirs used hardback: .1990 edition - in good condition The Memiors of Joh Bjelke-Petersen Other Books on Joh Bjelke-Petersen About Joh Bjelke-Petersen Sir Johannes "Joh" Bjelke-Petersen KCMG (13 January 1911 – 23 April 2005) New Zealand-born Australian politician was the longest-serving and longest-lived Premier of the state of Queensland. He held office from 1968 to 1987 a period that saw considerable economic development in the state. His uncompromising conservatism (including his role within the downfall of the Whitlam federal government) his political longevity and his leadership of a government that in its latter years was revealed to be institutio additional info.....
Tags: Johannes Petersen Hugh Joh Adventures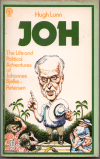 Joh - Hugh Lunn The Life and Political Adventures of Joh Bjelke-Petersen used paperback: .1978 edition - in average condition The Unauthorised Biography of Joh Bjelke-Petersen Other Books on Joh Bjelke-Petersen About Joh Bjelke-Petersen Sir Johannes "Joh" Bjelke-Petersen KCMG (13 January 1911 – 23 April 2005) New Zealand-born Australian politician was the longest-serving and longest-lived Premier of the state of Queensland. He held office from 1968 to 1987 a period that saw considerable economic development in the state. His uncompromising conservatism (including his role within the downfall of the Whitlam federal government) his political longevity and his leadership of a government that in its latter years was revealed to be institutionally corrupt made him one of the best-known political figures in twentieth-century Australia. Bjelke-Petersen was born in Dannevirke in the Southern Hawke's Bay region of New Zealand and lived in Waipukurau a small town in Hawke's Bay. Bjelke-Petersen's parents were both Danish immigrants and his father Carl was a Luthe lots more
Sir Johannes "Joh" Bjelke-Petersen, KCMG had been an Australian politician. He had been the longest-serving and longest-lived Premier of Queensland, keeping workplace from 1968 to 1987, where time their state enjoyed substantial financial development. Their uncompromising conservatism, his governmental durability, and his leadership of a government that, in its later years, was disclosed is institutionally corrupt, made him the best-known and a lot of questionable political numbers of twentieth century Australia.

Bjelke-Petersen's Country Party monitored Queensland despite regularly getting the smallest quantity of ballots out from the state's leading three events, reaching the consequences through a notorious system of electoral malapportionment that resulted in outlying ballots creating a better price than those cast in city electorates. The end result generated Bjelke-Petersen the nickname of "the Hillbilly Dictator". However he had been a highly well-known figure among conservative voters and throughout his 19 ages as premiere he tripled the sheer number of those who voted for their celebration and doubled the celebration's percentage vote, lowering their Liberal coalition partners to a mere six seats into the 1983 election. In 1985 Bjelke-Petersen established a campaign to maneuver into federal politics in order to become prime minister, although the campaign ended up being ultimately aborted.

Bjelke-Petersen was a divisive premier and attained himself a character as a "law and order" politician with his recurring using police force against road demonstrators and strongarm tactics with trade unions, leading to regular descriptions of Queensland under his management as a police state. From 1987 their management emerged beneath the scrutiny of a royal percentage into authorities corruption as well as its links with local government ministers. Bjelke-Petersen was unable to cure the group of harmful results and just after at first resisting an event vote that changed your as commander, resigned from politics on 1 December 1987. Two of their condition ministers, plus the authorities commissioner Bjelke-Petersen have appointed and later knighted, were jailed for corruption offences plus in 1991 Bjelke-Petersen, also, is attempted for perjury over his proof into royal percentage; the jury didn't get to a verdict and Bjelke-Petersen had been deemed too old to face another trial.

Bjelke-Petersen came to be in Dannevirke within the southern Hawke's Bay region of the latest Zealand, and lived in Waipukurau, a tiny town in Hawke's Bay. Bjelke-Petersen's parents had been both Danish immigrants, and his parent, Carl, was a Lutheran pastor. In 1913 the household relocated to Australian Continent, establishing a farm, "Bethany", near Kingaroy in south-eastern Queensland.

The younger Bjelke-Petersen suffered from polio, leaving him with a lifelong limp. The household had been bad, and Carl Bjelke-Petersen ended up being usually in poor health. Bjelke-Petersen done formal education at age 14 to work well with their mommy on the farm, though he later on enrolled in communication school and soon after undertook a University of Queensland expansion course from the "Art of Writing". He taught Sunday school, delivered sermons on a regular basis in nearby towns and joined up with the Kingaroy debating culture. In 1933, Bjelke-Petersen started jobs land-clearing and peanut agriculture on the family members' newly acquired second belongings. Their efforts in the course of time permitted him to begin with are a contract land-clearer and get more capital which he dedicated to farm equipment and natural resource research. He developed a technique for rapidly clearing scrub by connecting much anchor string between two bulldozers. Once he had been 30, he was a booming farmer and businessman. Obtaining a pilot's licence at the beginning of his mature lifestyle, Bjelke-Petersen in addition began aerial spraying and lawn seeding to help expand accelerate pasture development in Queensland.

After failing in a 1944 plebiscite against the sitting user to achieve Country Party endorsement within the state chair of Nanango, centered on Kingaroy, Bjelke-Petersen was elected in 1946 toward Kingaroy Shire Council, in which he developed a profile in the united kingdom celebration. Using support of regional federal member and shire council chairman Sir Charles Adermann and Sir Frank Nicklin, he gained Country Party recommendation for Nanango and was elected per year later on at years 36, taking place to give regular radio talks and getting assistant for the local Nationals branch. However hold this seat, rebranded Barambah in 1950, for the following 40 years. The Australian work celebration had presented energy in Queensland since 1932 and Bjelke-Petersen invested eleven years as an opposition associate.
Increase to energy, 1952-1970
Joh and Flo on the big day

On 31 might 1952, Bjelke-Petersen hitched typist Florence "Flo" Gilmour, who later being a significant political figure in her very own appropriate. In 1957, appropriate a split inside work celebration, the nation celebration under Nicklin found energy, utilizing the Liberal celebration as a junior coalition partner. This was a reversal of situation on nationwide amount; in Queensland, the nation celebration had historically been the bigger of the two non-Labor parties together with become senior lover within the Coalition since 1925.

In 1963 Frank Nicklin appointed Bjelke-Petersen as minister for work and housing, a profile that offered him the chance to bestow favours and make the loyalty of backbenchers by approving building of education, police programs and community housing in their electorates. He in addition offered as acting minister for training, police, Aboriginal and Island Affairs, municipality and conservation and labour and business.

Nicklin retired in January 1968 and had been succeeded as top-quality and nation celebration commander by Jack Pizzey; Liberal frontrunner Gordon Chalk was Deputy premiere and Bjelke-Petersen had been chosen unopposed as deputy Country Party commander. On 31 July 1968, after simply seven months in company, Pizzey suffered a heart assault and died. Chalk had been sworn in as caretaker premier. The united states Party have 27 seating in Parliament; the Liberals have 20. Nonetheless, there is some dispute over perhaps the Liberals should need elder status. Issues were taken to a head when Bjelke-Petersen—elected Country Party chief within times of Pizzey's death—threatened to pull the united states Party from the Coalition unless he became premiere. After a week Chalk accepted the inescapable, and Bjelke-Petersen is sworn in as top-quality on 8 August 1968. He remained Authorities Minister.
Dispute of great interest, celebration revolt

Within months of becoming top, Bjelke-Petersen encountered his earliest conflict over allegations of dispute of great interest. In April 1959, while still a backbencher, he previously paid ₤2 for an expert to Prospect, providing him the ability to search for oil over 150,000 km2 near Hughenden in far north Queensland. Another period he included a company, Artesian Basin Oil Co. Pty Ltd, of which he had been only director and shareholder, and exact same time entered an understanding to offer 51per cent associated with the business's stocks to an American company for ₤12,650. These time he sought the permission of Mines Minister Ernie Evans to transfer the oils search authority to Artesian for ₤2; the permission was given seven days later. Once the Taxation Commissioner's ruled your ₤12,650 windfall through the ₤2 expert is a taxable profit, Bjelke-Petersen appealed, ultimately taking the point toward High judge. The charm had been dismissed, with Justice Taylor ruling that Bjelke-Petersen's six million per cent build through the ₤2 authority arose from "a profit-making undertaking". In 1962 Artesian transported their expert to Prospect to a new providers, Exoil NL, for ₤190,000, and Bjelke-Petersen subsequently purchased a million stocks in Exoil. On 1 September 1968, three days after getting top, Bjelke-Petersen's authorities gave two companies, Exoil NL and Transoil NL—in each of which he is a significant shareholder—six-year leases to prospect for oils on the Great buffer Reef north of Cooktown. Opposition Leader Jack Houston unveiled the premiere's economic involvement into the companies at a press summit in March 1969, where he asserted Bjelke-Petersen have gained "fabulous wealth" from the ₤2 prospecting expert, which had today mushroomed into Exoil stocks worth $720,000. Bjelke-Petersen said he had finished absolutely nothing wrong, but resigned his directorship of Artesian in preference of his spouse.

The Country-Liberal coalition ended up being gone back to power in 1969 Queensland election, with the condition's program of electoral malapportionment delivering the united states Party 26 seating—a 3rd associated with the parliament's 78 seats—from 21.1per cent regarding the major vote, the Liberals using 19 seating from 23.7% associated with vote as well as the work celebration's 45.1% share of vote leaving it with 31 chairs.

Additional conflict adopted. In June 1970 it absolutely was revealed that many Queensland national ministers and senior community servants, also Florence Bjelke-Petersen, had purchased stocks within the public float of Comalco, a mining providers which had direct transactions because of the federal government and senior ministers. The shares completed their particular first-day of trading at double the price the ministers have compensated. Bjelke-Petersen again rejected statements of a conflict of interest, but the Country Party state part altered their rules to forbid the acceptance of preferential share provides by ministers or members of parliament. In October, the united states Party missing a by-election into the silver Coast chair of Albert, prompting several stressed MPs to make intends to oust Bjelke-Petersen as commander and exchange your with Ron Camm. Bjelke-Petersen spent the evening plus the next morning calling MPs to bolster assistance, enduring an event space vote by a margin of one, after creating a proxy vote of an MP who was simply offshore and uncontactable. Plans by nation celebration people to aid a Labor Party vote of no esteem in parliament had been quashed following the input of party president Robert Sparkes, just who warned that anyone who voted against Bjelke-Petersen would drop their particular preselection.
From 1971, beneath the assistance of newly hired hit assistant Allen Callaghan, an old Australian Broadcasting organization political journalist, Bjelke-Petersen developed a higher degree of elegance in working with news media. He held daily news conferences where he joked which he "fed the chooks", founded direct telex backlinks to newsrooms in which he could give professionally-written media releases and became adept at circulating press releases on deadline so journalists have hardly any possiblity to research reports products. The premiere's public profile rose rapidly using the ensuing media protection. Bjelke-Petersen started regular media and parliamentary assaults on the Whitlam Labor national, vowing to possess it defeated, and then he and Whitlam exchanged frequent spoken barbs, culminating into the prime minister's 1975 description associated with the Queensland premier as "a Bible-bashing bastard ... a paranoic, a bigot and fanatical". The set clashed more than national intends to stop the purchase of Queensland coal to Japan, take control the management of Aboriginal matters, pull outback petrol subsidies and go the Australian edge into the Torres Strait southwards to a spot midway between Queensland and Papua New Guinea. Bjelke-Petersen furthermore vehemently compared the Whitlam government's proposal for Medicare, a publicly funded universal healthcare system. The battles assisted to consolidate Bjelke-Petersen's energy as he put the media to emphasise a distinctive Queensland identity he alleged is under risk from "socialist" federal government.

The Queensland authorities purchased a single-engine aircraft the top-quality's use within November 1971, updating it to a twin-engine aircraft in 1973 and even bigger design in 1975. Bjelke-Petersen, a licensed pilot, used it frequently to consult with far-flung components of their state to campaign and boost their general public profile.

In April 1974, in a bid to broaden its attraction beyond outlying voters, the united states celebration altered its name towards the nationwide celebration.
The Gair event
Gair Affair

In April 1974 Bjelke-Petersen outmanoeuvred Whitlam after the prime minister offered Democratic Labor celebration senator Vince Gair, a bitter opponent of government, the career of ambassador to Ireland as a way of developing a supplementary vacant Senate place in Queensland. Whitlam, whom lacked a big part within the Senate, hoped Gair's chair is claimed by his work celebration. But once the arrangement had been disclosed by magazines before Gair had resigned from the Senate, Bjelke-Petersen's colleagues in Canberra straight away developed a method in which Gair's seat could be declared an informal vacancy, enabling the Queensland government to fill the vacancy until the next national election, therefore blocking the ALP relocate to get a handle on the Senate. In Canberra, the Opposition conspired maintain Gair out of the Senate President and ensured he voted in a Senate debate late that night in order to prevent any relocate to backdate the resignation. At 5.15pm the Queensland case came across to pass a "flying minute" and encouraged the Governor, Sir Colin Hannah, to issue writs for five, versus six, vacancies, denying work the opportunity of getting Gair's Senate spot. Work argued that Gair's session, and therefore their departure from the senate, ended up being effective from no later than when the Irish national acknowledged their visit, in March. This was a matter of protracted debate within the Senate over a number of days, and is never ever settled, however it had been rendered irrelevant whenever Whitlam called a double dissolution of both homes, in an election gamble he only narrowly claimed.
1974 state election

In October 1974 Bjelke-Petersen called an early state election for 7 December, declaring it could be fought on "the alien and stagnating, centralist, socialist, communist-inspired plans for the national Labor government". The top seen 70 cities and places in five-week campaign and drawn record crowds of people to general public conferences. The effect had been an amazing rout for the work Party, that was remaining in just 11 associated with state's 82 seats after a 16.5 percent swing to the coalition. Truly the only seat work retained north of Rockhampton was Cairns, by under 200 votes. The National celebration, contesting their earliest condition election in new-name and fielding applicants within 48 chairs, raised its vote from 19.7 percent to 28 percentage, producing a threat for Liberal Party, as well as obtained a number of town seating including their first-in Brisbane, the east suburbs seat of Wynnum. The Australian newsprint known as Bjelke-Petersen, whom they called the "undistinguished" Queensland premier, "Australian for the Year", citing "the single effects he's exerted on nationwide political lifetime".
Part in the Whitlam dismissal

In 1975 Bjelke-Petersen played just what turned into an integral role into the governmental crisis that brought down the Whitlam federal government. Whenever work Senator Bertie Milliner died unexpectedly in June 1975, Bjelke-Petersen requested from the Labor Party a short selection of three nominees, that he'd pick one. The ALP refused to produce these types of a listing, rather nominating Mal Colston, an unsuccessful work prospect in the 1970 election, who Bjelke-Petersen duly denied. On 3 September Bjelke-Petersen launched he have selected governmental newbie Albert Field, a long-time ALP associate who was simply crucial regarding the Whitlam authorities. Area's visit is the main topic of a higher courtroom challenge in which he took leave in late 1975. In those times, the Coalition led by Malcolm Fraser declined to allocate some to balance Field's lack. This gave the Coalition control of the Senate. Fraser utilized that control to impair passage of the provide expenses through Parliament, doubting Whitlam's then-unpopular government the appropriate ability to proper funds for government business and causing his dismissal as Prime Minister. During tumultuous election venture precipitated by Whitlam's dismissal by Sir John Kerr, Bjelke-Petersen alleged that Queensland police research have revealed damaging paperwork about the debts event. This documents ended up being never ever made public that allegations remained unsubstantiated.

Issues of authorities abilities and civil liberties, very first lifted at the time of the 1971 Springboks tour, resurfaced in July 1976 with an important street demonstration by which more than one thousand institution pupils marched towards the Brisbane city center to demand much better allowances through the authorities. Authorities ended the march in Coronation Drive and tv cams grabbed an event through the conflict in which a police inspector hit a 20-year-old women protester across head along with his baton, hurting the lady. When Police Commissioner Ray Whitrod announced he would hold an inquiry, a move supported by Police Minister maximum Hodges, Bjelke-Petersen declared there is no inquiry. He told reporters he had been sick and tired of radical groups thinking they could take control the streets. Police passed away a motion at a gathering commending the premiere for their "distinct stand against teams acting outside the law" and censured Whitrod. Seven days later Bjelke-Petersen relieved Hodges of his police profile. Safe in understanding that they had the premiere's backing, police officers carried on to do something provocatively, most notably in a military-style raid on a hippie commune at the Cedar Bay commune in Far North Queensland late these period. The authorities, who had previously been to locate cannabis, ready fire towards people' homes and ruined their house.

Bjelke-Petersen rejected requires a query to the raid, declaring the us government would think the authorities and claiming people clamour ended up being "all element of an orchestrated campaign to legalise marijuana and denigrate the police". In defiance associated with premiere, Whitrod moved forward with an inquiry anyway as well as on 16 November bought summonses become released against four cops on significantly more than 25 costs, including arson. He chose the same time to announce that he is stopping his article. Whitrod reported their resignation noted a victory for forces of corruption, but stated he'd decided to quit as opposed to tolerate additional governmental disturbance by the premier and new Police Minister Tom Newbery. Whitrod stated Queensland revealed signs and symptoms of getting a police state and then he in comparison the developing governmental disturbance in-law enforcement towards rise associated with the German Nazi state. Whitrod was changed by associate Commissioner Terry Lewis, despite Whitrod's caution toward authorities Minister which he is corrupt.

In 1977, Bjelke-Petersen launched that "your day of road marches was over", warning protesters: "do not make an effort obtaining a march permit. You may not become one. Which is authorities rules now!" Liberal parliamentarians entered the floor protecting the proper of association and installation. One Liberal MP, Colin Lamont, told a gathering on institution of Queensland your premiere had been engineering confrontation for electoral purposes and had been confronted a couple of hours later by an angry Bjelke-Petersen which stated he was aware of the commentary. Lamont later said he learned the specific Branch was indeed keeping records on Liberal rebels and stating, to not their Commissioner, but right to the premiere, commenting: "the authorities condition have appeared." When, after two ugly road battles between police and right-to-march protesters, the Uniting chapel Synod labeled as on the federal government to improve the march legislation, Bjelke-Petersen accused the clergy of "support communists". Their assault sparked a joint political declaration by four more biggest spiritual denominations, which was shrugged down by the top-quality.

The government's more and more hardline approach to civil liberties prompted Queensland National Party president Robert Sparkes to alert the celebration that it was developing a dangerous "propaganda-created" ultra-conservative, very nearly fascist image. He informed an event meeting: "we ought to studiously prevent any statements or activities which suggest an extreme right-wing pose." Bjelke-Petersen overlooked the advice. He condemned using Australian foreign aid to prop up communist regimes, advised Prime Minister Malcolm Fraser to get rid of criticising the governing bodies of South Africa and Rhodesia and from 1977 suggested Queensland secede from Australian Continent and build its currency. He furthermore accused political opponents of being covert communists curved on anarchy, observing: "We have always found ... you can campaign on anything you like but there is nothing more efficient than communism ... If he is a Labor guy, he's a socialist and an extremely dangerous guy."

Three days before the 1977 condition election 400 demonstrators are arrested in what a Melbourne newspaper called "Joh's War". Aided by an electoral redistribution that removed two Liberal-held seating, the Nationals won 35 off 82 chairs, in contrast to 24 for the Liberals and 23 for a resurgent Labor Party. It absolutely was the very first time in Queensland political records the Nationals had outpolled the Liberals. Bjelke-Petersen put the celebration's power to go key pantry articles that had very long held because of the Liberals to the arms of nationwide Party ministers. In October 1978 1000s of demonstrators once again experimented with defy anti-march legislation with a protest march in Albert St, Brisbane, that was again repulsed by authorities lined five deep. In a Brisbane byelection per month later on National Party help slumped to simply ten percent, 50 % of what party strategists have anticipated. But by the end of 1978, the state Liberal and work events had latest parliamentary leaders—the 4th work resistance leader during Bjelke-Petersen's reign and third Liberal commander.


Joh Bjelke-Petersen - Wikipedia
Bjelke-Petersen's memoirs, Don't You Worry About That: The Joh Bjelke-Petersen Memoirs, were published the same year. He retired to Bethany where his son John and wife Karyn set up bed and breakfast cottages on the property. He developed progressive supranuclear palsy, a condition similar to Parkinson's disease.
DON'T YOU WORRY ABOUT THAT! ~ The Joh Bjelke-Petersen ...
JOH BJELKE-PETERSEN" HARDCOVER D/J " Sir Johannes "Joh" Bjelke-Petersen, KCMG (13 January 1911 – 23 April 2005), New Zealand-born Australian politician, was the longest-serving and longest-lived Premier of the state of Queensland.
Talk:Joh Bjelke-Petersen - Wikipedia
Joh Bjelke-Petersen is within the scope of WikiProject Australia, ... In part, the books I have introduced to this page include those by Don Lane and Rae Wear, as well as transcripts by Ray Whitrod, Colin Lamont, Quentin Dempster, Mike Gore and Joh himself. When I get the time (this is just a hobby you know) I will try to supplement this ...
JOH - LIFE & POLITICAL ADVENTURES OF JOHANNES BJELKE ...
Books n Bits JOH: THE LIFE AND POLITICAL ADVENTURES OF JOHANNES BJELKE-PETERSEN by Hugh Lunn Description. JOH: THE LIFE AND POLITICAL ADVENTURES OF JOHANNES BJELKE-PETERSEN by Hugh Lunn (Hardcover/Dust Jacket, 1978) Book Dimensions – 22.5cm (L) x 14.5cm (W) Pages - 280. University of Queensland Press. 1st Edition. About Us
Joh: The Life and Political Adventures of Johannes Bjelke ...
Books-A-Million ; IndieBound; Find in a library ... federal Labor government film flying Frank Nicklin Fraser Gair affair gerrymander going Gough Whitlam Guinea Islanders issue Joh Bjelke-Petersen Joh's Johannes Bjelke-Petersen journalists Kingaroy land later leader Liberal party looked ment Mount Isa move National party never newspaper numbers ...
JOH BJELKE-PETERSEN: 9780980732153: Amazon.com: Books
Books Advanced Search New Releases Amazon Charts Best Sellers & More The New York Times® Best Sellers Children's Books Textbooks Textbook Rentals Sell Us Your Books Best Books of the Month Kindle ... JOH BJELKE-PETERSEN Paperback – 2009. Be the first to review this item. See all formats and editions Hide ...
Joh Bjelke-Petersen - IMDb
Joh Bjelke-Petersen was born on January 13, 1911 in Dannevirke, New Zealand as Johannes Bjelke-Petersen. He was married to Flo Bjelke-Petersen.He died on April 23, 2005 in Kingaroy, Queensland, Australia.
Don't you worry about that!: The Joh Bjelke-Petersen ...
Then you can start reading Kindle books on your smartphone, tablet, or computer - no Kindle device required. Apple. Android. Windows Phone. Android. To get the free app, enter your mobile phone number. ... Don't you worry about that!: The Joh Bjelke-Petersen memoirs Hardcover – 1990.
Johannes Bjelke-Petersen Facts - biography.yourdictionary.com
Johannes Bjelke-Petersen facts: The Australian politician Johannes (Joh) Bjelke-Petersen (born 1911) was an extreme reactionary who dominated Queensland politics for years, serving as premier of Queensland from 1968 to 1988. Johannes Bjelke-Petersen was born in...